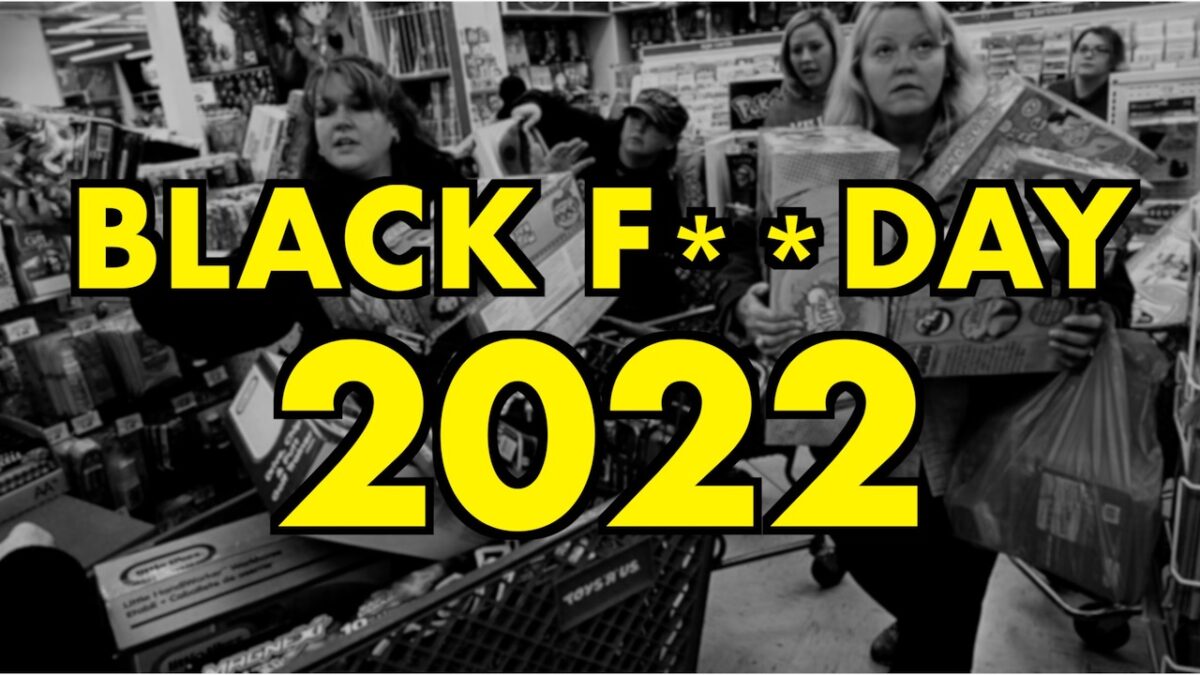 Get ready for another spending spree… it's Black Friday 2022!
After a year of death (queen), destruction (ukraine) and depression (everything else), here is your annual grab-bag of all the best sample library and plugin bargains. As per Samplecast tradition, this is not just any old crap… it's the software that I use on a regular basis and can personally vouch for. I'll be adding more things as the weekend progresses.
So let's ignore the cost of living crisis and spend some money…

Red Room Audio – Palette Orchestral Bundle – 83% off – $149
A developer that I've whole-heartedly supported from the very start, Red Room Audio offer an entire orchestral collection for less than the price of just one pack! At the lowest price ever, even if you already have plenty of orchestral libraries this is worth picking up. The gorgeous legato Melodics, hundreds of FX and tempo-synced Runs are worth the price of admission alone. This library really warrants a deep dive to discover hidden gems.

Soundspot – Union Synth – 97% off – £3.95
A fab synth that is often overlooked by people in favour of the far more expensive Serum. This plugin does wavetable synthesis extremely well and is one of my sound design secret weapons. Currently available for just a few quid. For £1 more you can grab a bundle with a few extra plugins.

Sample Logic – XOSphere Bundle – 85% off – $99.99
Crazy price on a bundle of inspiring atmosphere designers. I did the video walkthroughs for XOSphere 2 and personally use the sounds as a quick solution to compose lots of evolving layers. Highly customisable and super-lush textures.

Heavyocity – Scoring Bass – 50% off – $49.50
There are tons of great Heavyocity libraries on sale this holiday season. Aside from the Scoring Guitars series, this is probably my favourite one, instantly injecting low-end pulses and bass guitar licks into all sorts of music.

Red Room Audio – SAGA Acoustic Trailer Percussion – 67% off – $49
Up to 50% off on all Red Room Audio products this week at their own site. But there's 66% off SAGA via Audio Plugin Deals. This organic-sounding percussion library is one of my ultimate favourites. Exquisitely sampled large drums and metals for cinematic scoring.

Free To Use Sounds – All In One Bundle (1.8 TB) – $15
This is an absolutely mind-boggling foley collection of 10,000 WAV files, captured from all over the globe. Every single release from the label is included, plus access to all future content. Use code blackfriday to knock $10 off the $25 list price, reducing the price to just $15.

Sonnox – Oxford Inflator – 75% off – £34.96
Old, but gold. The original plugin that you can stick on any kind of audio to make it sound "better". Just don't ask me how it works. Other amazing Sonnox products are also on deep discount at Plugin Boutique.

Pulse Audio – Liikkuva Scandi String Textures – 66% off – $49
A brand new release from composer Emmett Cooke, currently on intro discount. This emotive string library brings the sound of the frozen north to Kontakt. Perfect for creating shimmering string moments with high / low string splits in a variety of articulations.

Cinesamples – 65% off storewide
The brass sections from Cinesamples are probably my most used horns of all time. At 65% off, it's hard to resist the gorgeously mellow Sonore or a powerful 12 Horn Ensemble. Industry standard and oh-so comprehensive CinePerc is also a firm favourite. Avoid the strings as there are better options out there.

Fallout Music Group – 60% off everything
These clever folks have a habit of creating libraries that do just one specific thing extremely well. Their horror-themed Kontakt products are like nothing you've heard before. Worth noting that Unstrung is currently on special sale at Audio Plugin Deals for just $24 (75% off) so pick that up for Hereditary-style scratchy strings. Their generous freebies are 100% worth your time.

Aria Sounds – Aurora Choir – 92% off – €19
This choir seems to be on perma-discount, but I don't recall ever seeing it so cheap. Soprano and Alto singers, with some decent legato recorded in an immersive space. Not the best choir you've ever heard, but far from the worst and for this price it's a very useful library.

Black Octopus Sound – Leviathan 4 in 1 – 84% off – $49.99
Far more on the dance / electronic tip than any of the previous libraries I've mentioned, nevertheless, this is a bumper selection that I turn to time and time again. Flawless in their execution and ready to drag-and-drop, this is a super-useful toolkit.

Freakshow Industries – 1% off / FREE
Super silly Black Friday lolz from these pranksters, who are offering just 1% off their sound-mangling plugins. BUT… you can actually pay what you want or even "steal" them legally for free from their site.

Backblaze – Cloud Storage / Backup – 20% off
Lastly, a completely essential deal that isn't a library or plugin. I use Backblaze to constantly back up my computer system and all external drives. Saving my bacon on several occasions, it's a stress-free way to keep everything safe, without having to perform physical backups each day. A rare offer of 20% off is valid for the next few days using coupon code BLAZEON22

Audio Plugin Deals – 18 deals revealed over 3 days : I already know what these deals will be but I can't tell anyone yet. There are 2 in particular that are extraordinary value and you'll definitely want to pick them up. Keep an eye on the page.
Sonuscore – Pipe Organ – FREE : Beautifully sampled church organ, for the free Kontakt Player.
Soundspot Drum Processing Bundle – 98% off – £5 : Fix your kicks, and a whole lot more, with this toolkit of plugins from oft-overlooked Soundspot.
ZAK Sound – Skydrones Pads – FREE : Simple but effective pads for cinematic scoring, running only on Kontakt Full.
Samples From Mars – 98% off – $49 : Snag an amazing price on 60GB of drum machines, synths and more… all sampled from the original hardware. Try coupon code UpgradeF52FN26B for a further $20 off and let me know if it works.
Splash Sound – Old School Keys – FREE : Recall your misspent youth with a free funky keys collection for Kontakt Full.
Spitfire The Ton – 79% off – £99 : 3 interesting instruments from everyone's favourite controversial co-founder. Fragile String Evolutions is especially good.
Hunter Rogerson – The Wildmother's Dulcimer – FREE : I discovered this composer via his incredible Hearth & Hollow folk library (currently 20% off). The two volumes of this free dulcimer can be downloaded via pianobook.
Wavesfactory – up to 60% off : Grab Trackspacer for creative EQ ducking and you'll wonder how you ever lived without it. Their quirky Kontakt libraries are also great fun.